Last updated on June 29th, 2022 by Fitness Goal 4U
A healthy diet is very important for the best nutrition and a healthy lifestyle. When choosing foods, focus on fruits and vegetables, and low-fat dairy products. So Many people don't consume the required amounts of nutrients, which increases their risk for various illnesses. To meet nutrient recommendations, here we have the best 5 types of suggestions for you.
1. Vegetables: Vegetables are low in fat and protein thus they are a perfect complement to animal protein foods. You should consume 2 1/2 cups of vegetables per day. Eating a rich diet in leafy greens can give you numerous health benefits including reduced risk of obesity, heart disease, high blood pressure, and mental decline. Vegetables pack a lot of nutrition and a minimum of calories.
2. Fruit: The fruit is a good source of all of these nutrients to help meet your needs. Fruits are an excellent source of important vitamins & minerals, and they are high in fiber. Eating fruit daily can boost your health. Focus on fresh fruit, which does not have added any sweeteners. Excellent choices include berries, apples, and bananas.
3. Whole Grains: Whole grains do not have their bran and germ removed as refined grains do. The refining process removes many nutrients making whole grains a better choice. Whole grains have been a part of the human diet for tens of thousands of years. Whole grains & products made from them are more filling than refined grains, & research suggests that they may lower your risk of obesity. Many Americans do not consume the required amount of 38 grams for men and 25 grams of fiber for women. Whole grains are high in fiber which can meet the fiber requirements of our body. Swap refined-carbohydrate foods for whole-grain choices.
4. Protein: Focus on lean protein sources such as boneless skinless chicken breasts, beans, tofu, fish, and eggs. Heart benefits of whole grains don't stop with cholesterol & triglycerides. One egg, 1 tablespoon of peanut butter, 1/4 cup of beans, or 1 ounce of meat counts as an ounce. For snacks, include protein-rich food to help keep you full such as peanut butter with an apple or low-fat string cheese with whole-wheat crackers.
5. Low-Fat Dairy: You should consume two to three servings of dairy products per day according to the U.S. Department of Agriculture. Some dairy items have impressive levels of calcium and protein. Dairy products are rich in potassium, vitamin D, protein, and calcium, which are important for optimal health. Only consume Low-fat dairy products and Limit high-fat dairy products such as full-fat cheese, whole milk, and ice cream.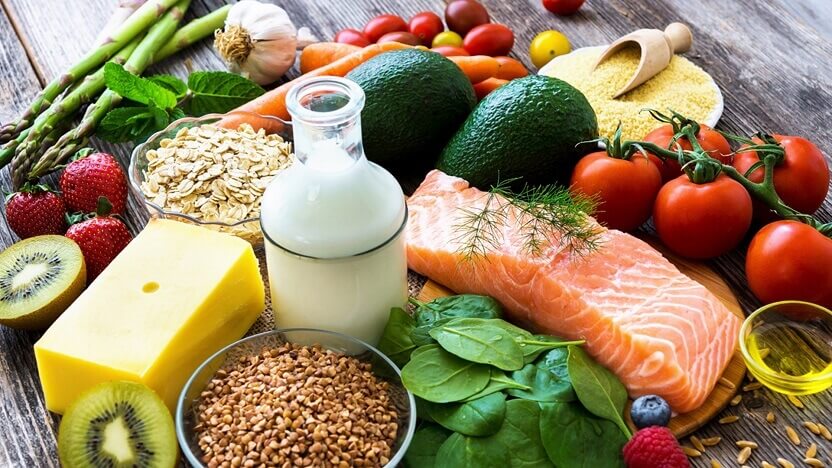 If you have any query please feel free to send a mail.
Send Email!